News & Events
Record Month PVC roofline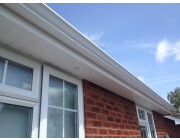 Summer is here and it seems that everyone is outside in he garden sunbathing - at the same time looking at their home and noticing that the timber fascia and soffits are rotting away. With all the wet and damp of winter and spring and now the direct sunlight, the paint is peeling away and the garden may look neat but the bargeboards, fasciaboards and soffits dont!
So Shropshire cladding have been busy replacing all these rotten timbers with maintenace free UPVC fascia and soffits. We have had a record month in June and July looks like going the same way.
Just look at how neat the finish of the PVC Roofline is on the image above. We are able to get a neat finish like this because we deal with a full roofline refurbishment, so all the timbers are removed before we install the pvc fascia and soffit.
And its not just the fascia and soffit we replace also the feltwotk is replaaced with an eaves protection system, bird comb is fitted under the tiles, soffit vents to allow ventilation into the loft space, dry verge tile capping, the list go on- we dont cap over and run !!!
Please feel free to call Paul for a free quotation
Read More News